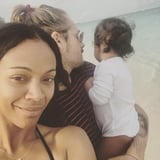 A post shared by Zoe Saldana (@zoesaldana) on Apr 26, 2016 at 6:41am PDT

Whether you're a mom of boys or are raising a gaggle of girls, you have probably - nay, definitely - been asked the following: "But don't you want a boy?" "Are you going to try for a daughter next?!" "Next time's the charm, right?!"

Zoe Saldana, mother to three sons, is no stranger to this line of questioning.

"It always puzzles us," she said in an interview with Today. "We're a family of five, and then they're always like,...
Published By: popsugar - Friday, 13 July, 2018