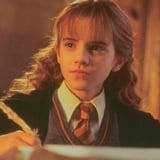 Image Source: Everett Collection

Get ready to channel your inner Hermione Granger, because Audbile and Pottermore have teamed up to bring us an exciting addition to the Wizarding World of Harry Potter in the form of a brand new audiobook.

If you can't get enough of all the ins and outs of the intricate, magical universe author J.K. Rowling builds in her bestselling series, then Harry Potter: A History of Magic needs to be at the top of your must-read (er, must-listen) list. Game of Thrones alum Natalie Dormer is the...
Published By: popsugar - Thursday, 9 August, 2018