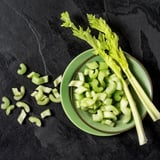 It's too soon to call what the best health and wellness trend of 2019 is, but celery juice is definitely at the top of the list. If you've started adding celery juice to your morning routine, you've got to try this simple trick to keep your celery fresh longer.

How to Choose Your Celery

The first step is to select a quality bunch of celery. It may sound mundane, but this will make all the difference. Plus, it will help you save money and prevent you from wasting food. According to the...
Published By: popsugar - Tuesday, 12 February