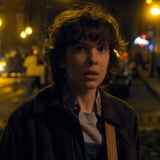 Image Source: Netflix

As much as we wish Stranger Things would go on forever, we recognize that the show has an expiration date. But when, exactly, will that be?

Ever since the second season came out last year, Stranger Things cocreators Ross and Matt Duffer have maintained the Netflix hit has a finite number of seasons. During an interview with New York Magazine in August 2017, Ross said that they were "thinking it will be a four-season thing and then out," which would mean there are two more seasons left for the...
Published By: popsugar - Tuesday, 13 November, 2018