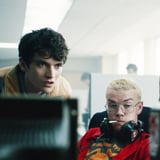 With the viral success of the choose-your-own-adventure Black Mirror: Bandersnatch, Netflix has entered new territory with a new level of audience control over the stories we see. Bandersnatch has gotten tons of attention, with fans trying to unlock all the different routes to all the different possible endings (and there are more of them than you might think!). Given the success of Black Mirror: Bandersnatch, the big question is whether or not Netflix will continue with this model and produce more interactive movies and series in the future.

As it just...
Published By: popsugar - Friday, 11 January
Older News
American Pie, Sex and the City, and 30 More Titles Leaving Netflix This April popsugar (2 days ago) - April is arriving, and with it, a fresh round of new movies and TV shows are hitting Netflix, so you can put off your plans for another day, and indulge...
Movies New to Netflix in April: 'Burning,' 'American Honey,' and Extended Version of 'Hateful Eight' indieWIRENews (2 days ago) - Netflix might not be going to Cannes, but it's bringing the festival to its own library, as it readies to roll out films from Lee Chang-Dong, Andrea Arnold, and Quentin...
The 31 Disney Movies You Can Stream on Netflix With Your Kids in 2019 popsugar (3 days ago) - There's something about Disney movies that make it so you're always in the mood to put one on, whether to watch seriously or to have on in the background of...
You vs. Wild: Netflix's New Interactive Series Puts Bear Grylls's Fate in Your Hands popsugar (3 days ago) - Think you can handle the wild? Well, Netflix's newest interactive series is telling you to put up or shut up! Over the course of eight episodes, You vs. Wild will...
Bear Grylls Will Now Torture Himself In A Netflix Interactive Series hitfix (3 days ago) - Bear Grylls will now place himself at the mercy of Netflix viewers, and there's already a tiny teaser....
Netflix's First Interactive Series Will Give You the Choice Whether Bear Grylls Lives or Dies indieWIRENews (3 days ago) - "You vs. Wild" will bring the "Bandersnatch" strategy to an outdoor survival TV show....
'The Irishman' Won't Screen At Cannes, Nor Will Any Other Netflix Movies After Last Year's Spat hitfix (3 days ago) - Netflix will be absent from Cannes for the second year, but there's a pretty good reason....