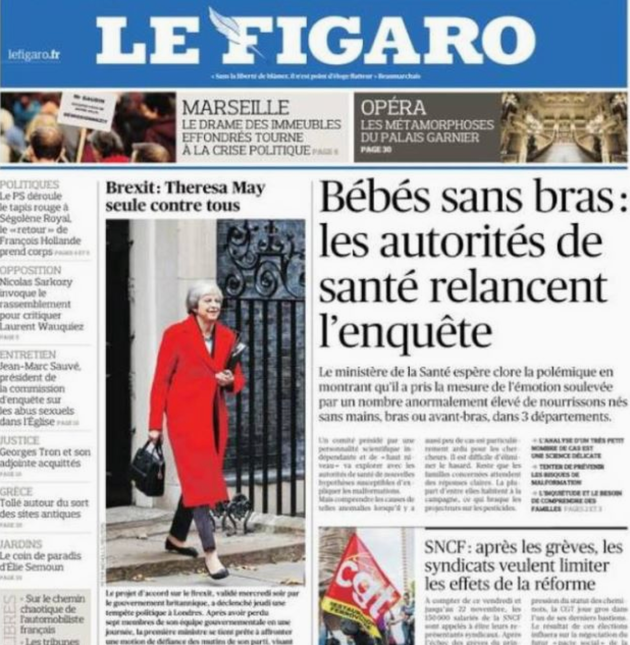 Theresa May has finally published a blueprint for Brexit - and she may be rewarded for her work by being ousted by her backbenchers. The long-awaited draft deal has reopened old wounds in Britain and turned the nation into Westminster-watchers, as news of the prime minister's demise seems imminent. But, watching from a safe distance, what does the rest of Europe think of the unfolding turmoil? We have taken the temperature and it's decidedly chilly.FranceThe French newspaper Le Figaro notes "a total impasse", with its leader column observing there is "no majority for...
Published By: huffingtonpost - Saturday, 17 November
Older News
Airbus Warns No-Deal Brexit Would Be 'Absolutely Catastrophic' huffingtonpost (Today) - A no-deal Brexit would be "absolutely catastrophic", a boss at Airbus has said, warning future investment in the UK could be under threat.Katherine Bennett, senior vice president at the aerospace...
Emergency Planners Warned Of No-Deal Food Shortage Risks – Just One Month Before Brexit huffingtonpost (Yesterday) - The government has warned local emergency planning groups across England there could a drop in the food available to Brits if the UK crashes out of the EU without a...
Nicky Morgan Says Theresa May 'Spectacularly Mishandled' Brexit Votes huffingtonpost (2 days ago) - Theresa May "spectacularly mishandled" Thursday's Brexit votes and brought an "entirely avoidable" defeat on herself, a Tory former cabinet minister has said.Nicky Morgan also stressed that trust in the prime...
Ministers Must Quit In Two Weeks Or Be 'Complicit In No-Deal Brexit', Tory Remainers Say huffingtonpost (2 days ago) - Tory MPs have ramped up pressure on ministers to quit the government over Brexit, warning they will be "complicit in delivering no-deal" unless they resign by the end of the...
Theresa May Is Trying To Pull Wool Over Our Eyes On Our Post-Brexit Rights huffingtonpost (2 days ago) - The Prime Minister isn't being honest with working people about what will happen to their rights after Brexit.While she's offered more warm words and spin this week – both in...
Caroline Flint Says MPs' Attempt To Block No Deal Is A 'Trojan Horse' To Stop Brexit huffingtonpost (3 days ago) - A cross-party attempt to take control of Brexit and rule out no deal is a "Trojan horse" for stopping Britain's exit from the EU, a senior Labour MP has said.Caroline...
Secret No-Deal Brexit Papers To Be Published As Government Caves To Pressure From MPs huffingtonpost (3 days ago) - The government has offered to publish its most recent internal assessment of the impact on business and trade of a no-deal Brexit, in the face of a possible Commons defeat.Ministers...
The Dutch Have A Massive Blue Brexit Monster Because... Oh We Don't Even Know Anymore huffingtonpost (3 days ago) - What's blue, furry, massive and wears a Brexit t-shirt?Yeah, we have no idea either but there's one on the desk of the Dutch foreign minister and he doesn't seem too...
Put Aside 'Ideological Purity' And Back Theresa May On Brexit, Liam Fox Tells Tory Rebels huffingtonpost (3 days ago) - Liam Fox has warned Tory MPs they will undermine the prime minister's negotiations with Brussels if they vote against the government on Thursday.Brexiteer Tories are threatening to rebel in a...