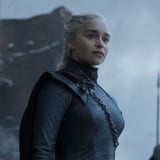 Warning! All the fiery spoilers for the series finale of Game of Thrones!

After reigning fire down on King's Landing in the penultimate episode of Game of Thrones, it was only a matter of time before the Mother of Dragons met her end. But even after the destruction she brings the innocent women, children, and men of Westeros, we can't help but feel like the death of Daenerys Targaryen is sorely anti-climatic, especially considering how fiercely she lived.

Related: Game of Thrones Fans Are NOT Holding Back After That Very Unexpected...
Published By: popsugar - Sunday, 19 May