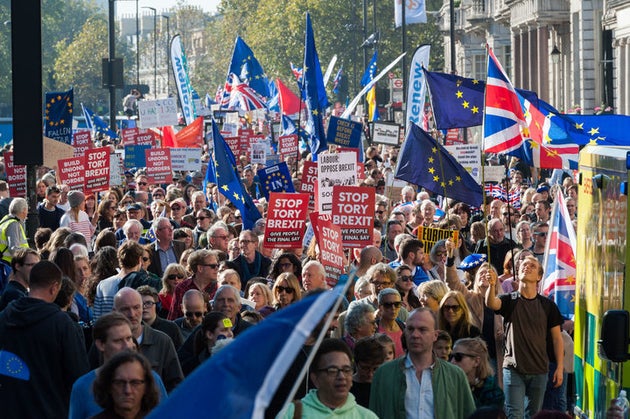 The communications director for Vote Leave has said there should be a referendum on Theresa May's Brexit deal if people "don't like it".Paul Stephenson played a leading role in the official leave campaign led by Michael Gove and Boris Johnson."I'm a democrat. Of course if we get a deal and people don't like it, there should be another vote," he told a technology conference in Lisbon on Tuesday.Stephenson told HuffPost UK while he had not "defected" to the People's Vote campaign – if there was a "groundswell of opinion" for...
Published By: huffingtonpost - Wednesday, 7 November
Older News
David Cameron Believed Brexit Referendum Would Never Happen, Claims EU Chief huffingtonpost (Today) - David Cameron believed the Brexit referendum he called would never happen because the Lib Dems would block it, EU chief Donald Tusk has claimed.In an interview for a BBC documentary...
If Stopping No-Deal Is Our Priority, We Are Running Out Of Options huffingtonpost (Today) - Ten weeks away from a catastrophic no-deal Brexit, we are fast running out of options. The Tories have wasted over two years trying to persuade the EU to break the...
The 'People's Vote' We Need Is Another General Election huffingtonpost (Today) - Heaven only knows how we've let it get to this stage. Then again, isn't that typical of the human condition? We always leave everything to the last minute, somehow keeping...
Business Minister Richard Harrington Warns No-Deal Brexit Would Be A 'Disaster' huffingtonpost (Today) - A no-deal Brexit would be "an absolute disaster", Theresa May has been warned by a member of her government.Richard Harrington, a business minister, demanded on Monday the prime minister "rule...
Brexit Plan B: Theresa May To Make Fresh Attempt To Ditch Irish 'Backstop' huffingtonpost (Yesterday) - Theresa May faces another tumultuous day in parliament as she presents her Brexit 'Plan B', which will she her revert to earlier attempts to ditch the controversial Irish 'backstop'.The Prime...
Sunday Shows Round-Up: 'Where The Hell Do We Go From Here?' Edition huffingtonpost (Yesterday) - It has been a week in Westminster that will go down in the history books – the week that Theresa May's Brexit deal was delivered an unheard-of blow, with 432...
David Lammy: 'Labour MPs Could Split To Form New Party If Jeremy Corbyn Does Not Back People's Vote' huffingtonpost (Yesterday) - Jeremy Corbyn's unwillingness to back a second referendum could lead to a near-fatal split in the Labour Party, David Lammy has warned. Calling for a so-called people's vote to break...
A Second Referendum Is May's Only Hope To Get Country Behind Her Brexit Deal huffingtonpost (Yesterday) - No-deal must be taken off the table, but so must no progress. That is why we met with the Prime Minister and senior members of the British Cabinet this week.It...
Labour Must Not Rule Out Second EU Referendum, Shadow Brexit Secretary Says huffingtonpost (2 days ago) - Labour must keep open the option of a second EU referendum, shadow Brexit secretary Keir Starmer has said.Following the defeat of Theresa May's Brexit deal, he said the choice lay...
It's A Dirty Word In Politics, But Compromise Is The Key To Solving Brexit huffingtonpost (3 days ago) - Theresa May's signature "nothing has changed" mantra must be jettisoned before she plunges us into a disastrous no deal Brexit which will scar our country for decades.Compromise is a dirty...