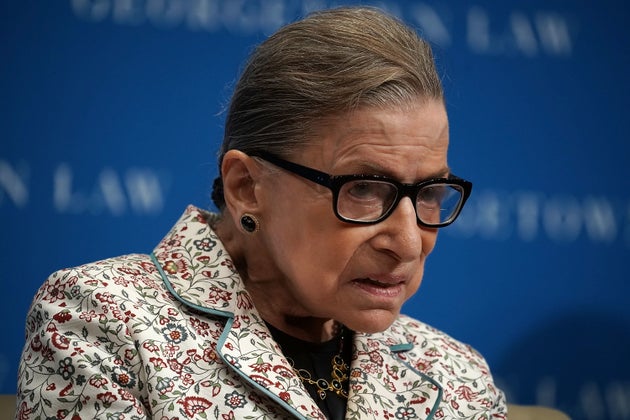 US Supreme Court justice Ruth Bader Ginsburg, who is 85, has been taken to hospital with three fractured ribs after a fall at court on Wednesday.The court has said Bader Ginsburg went to George Washington University Hospital in Washington early on Thursday, after experiencing discomfort overnight.In her absence, the court was going ahead on Thursday with a ceremony welcoming new Justice Brett Kavanaugh, who joined the court last month after a fiercely-contested nomination process.President Donald Trump and new acting Attorney General Matthew Whitaker were expected to attend.She previously broke two...
Published By: huffingtonpost - Thursday, 8 November
Older News
David Schwimmer 'Lookalike' Arrested In Theft Probe huffingtonpost (Today) - Police have arrested a "lookalike" of Friends star David Schwimmer, after he failed to attend court before Christmas.Abdulah Husseini, 36, was initially arrested for theft in November after police shared...
'Fox And Friends' Has Apologized For Airing A Graphic Announcing The Death Of Ruth Bader Ginsburg hitfix (Yesterday) - Not so fast, Fox News! The Notorious RBG is still alive and kicking....
Jaden Moodie Murder: Teenager Appears In Court Charged With Killing 14-Year-Old huffingtonpost (Yesterday) - A teenager has appeared in court charged with the murder of 14-year-old Jaden Moodie.Ayoub Majdouline, 18, appeared in the dock at Thames Magistrates' Court on Monday.Majdouline, of Lily Gardens in...
Police Release Mugshot After 'David Schwimmer Lookalike' Fails To Turn Up To Court huffingtonpost (Yesterday) - A mugshot has been released of an uncanny David Schwimmer lookalike who police wanted to trace over an alleged theft of a case of beer from a Blackpool shop.Officers in...
Ruth Langsford branded a 'traitor' during This Morning with Eamonn 'I can't believe you!' express. (2 days ago) - RUTH LANGSFORD sparked outrage today and was branded a "traitor" during the very first edition of This Morning On Sunday, alongside her husband Eamonn Holmes....
Alexandria Ocasio-Cortez Gives Brilliant Speech at Women's March: "This Is About Justice" popsugar (3 days ago) - Newly-elected New York Representative Alexandria Ocasio-Cortez empowered crowds as she took the stage at two Women's Marches in NYC on Jan. 19. The 29-year-old politician, and the youngest woman ever...
Ruth Bader Ginsburg Will Have A Cameo In 'The Lego Movie 2' hitfix (3 days ago) - This is on top of having an action figure and two movies, "RBG" and "On the Basis of Sex," released in the same year....