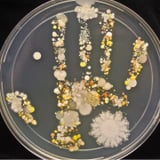 An old photo of an 8-year-old's handprint is bubbling back up on the internet, and "bubbling" is probably a gross understatement.

The photo was first shared by mom Tasha Sturm, and it isn't of her son's hand in acrylic paint or pushed into clay. Nope, instead it's all the bacteria that grew on the then-grade-schooler's hand while playing outside before he pressed it onto a large Petri dish.

Tasha, who had worked as a microbiology lab tech in California, told NBC in 2015 that she was used to swabbing cell...
Published By: popsugar - Thursday, 21 March