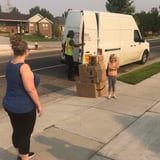 My badass little cousin ordered $300 worth of toys w/o my aunt & uncle knowing. This is a picture of how everyone found out. pic.twitter.com/wHWVhsMBYI

- princess ria (@R_tatas) August 11, 2018

We've all heard of kids ordering stuff from their parents' Amazon Prime accounts, but it's often just a false alarm – shipments thwarted in the nick of time. That wasn't the case for Caitlin, a cunning six-year-old in Arizona who, after being allowed to order one Barbie doll for her birthday, asked her parents if she could log back on...
Published By: popsugar - Tuesday, 14 August, 2018