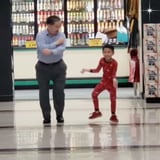 11:57 PM

Kyu: Grandpa, let's go dancing!

Grandpa Txhiaj Sawm: Now?

Kyu: Yeah, it'll be fun!

Grandpa: Okay.

*Grandpa changed out of his PJ*

*Kyu stayed in his PJ*

*DRIVES TO LOCATION*

*Pulls up to Festival Foods*

Grandpa: Do you guys need to buy something?

Kyu: No grandpa, we dance here in the groceries store.

Grandpa: Here? People are going to think we're crazy!

Kyu: People? What people?

Grandpa: I thought we were going to a party or a club.

*ME laughing hysterically*

Kyu: Grandpa, Use your imagination. You can dance anywhere! ????

Thanks dad for being such a good sport for Kyu...
Published By: popsugar - Tuesday, 11 June