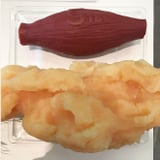 A post shared by AUTUMN CALABRESE (@autumncalabrese) on Jul 9, 2018 at 9:08am PDT

Muscle weighs more than fat: this "fact" has been touted in fitness and weight-loss communities for decades. In reality, this is impossible - five pounds of muscle and five pounds of fat are still five pounds on the scale.

But it is true that muscle is more dense than fat and takes up less space in your body. Beachbody trainer Autumn Calabrese, creator of the 21 Day Fix and 80 Day Obsession, showed the difference between five...
Published By: popsugar - Tuesday, 10 July, 2018