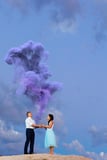 If you are a fan of classic Disney movies, then you know that they all end with that magical "happily ever after." But what happens after that fairy-tale ending? An Aladdin-themed anniversary shoot, of course!

Ruby and Eric tied the knot with a gorgeous Disney-themed wedding that was so fabulous that it made it on to Disney's wedding TV show. The pair decided to keep the Disney flame alive and enlisted photographer Jenna Henderson to help them capture their love with this Aladdin-themed shoot.

"They had reached out to me...
Published By: popsugar - Saturday, 8 December