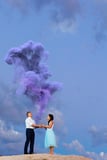 If you are a fan of classic Disney movies, then you know that they all end with that magical "happily ever after." But what happens after that fairy-tale ending? An Aladdin-themed anniversary shoot, of course!

Ruby and Eric tied the knot with a gorgeous Disney-themed wedding that was so fabulous that it made it on to Disney's wedding TV show. The pair decided to keep the Disney flame alive and enlisted photographer Jenna Henderson to help them capture their love with this Aladdin-themed shoot.

"They had reached out to me...
Published By: popsugar - Saturday, 8 December
Older News
Naomi Scott's Dress Train Was So Voluminous, Mena Massoud Fluffed It on the Red Carpet popsugar (Today) - Naomi Scott may not have worn a teal two-piece set to the Aladdin world premiere, but she still managed to exude modern-day Princess Jasmine vibes - no jewel-adorned headband required....
You Ain't Never Had a Family Like the Smiths at the Aladdin Premiere popsugar (Today) - It was a Smith family affair at the Los Angeles premiere of Aladdin on Tuesday. Will Smith, 50, was joined by wife Jada, 47, and his three children - Trey,...
'Aladdin' Review: Will Smith Steals the Show in Guy Ritchie's Unexpectedly Fun Remake indieWIRENews (Today) - Mena Massoud and Naomi Scott are mostly charming as a modernized Aladdin and Jasmine, but it's Smith's full force performance that stands out....
Guy Ritchie On Embracing, And Disrupting, Your 'Aladdin' Nostalgia hitfix (Yesterday) - A conversation with the famed director about his live-action 'Aladdin' remake, the long-gestating 'Sherlock Holmes 3,' and 'The Gentleman.'...
We Couldn't Possibly Be More Excited For the Disney Movies Coming Out This Summer popsugar (2 days ago) - Disney is having quite the year - it announced that its streaming service, Disney+, will launch in November, and it's already released one of its most highly anticipated movies of...
This Adjustable Aladdin Jewelry Is Full of Secrets - Just Peek Inside Those Magic Lamp Earrings popsugar (2 days ago) - If you've ever caught yourself daydreaming about being decked out in colorful jewels like Princess Jasmine, Disney might have just made your dreams a reality. In collaboration with Rock Love...