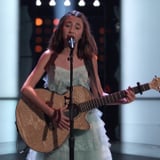 At just 14 years old, Mikaela Astel delighted coaches on The Voice with her whimsical audition. The singer and guitar player earned chair-turns by John Legend and Kelly Clarkson with her performance of "Electric Love" by BØRNS. (The impressively confident audition might have inspired more turns, however, coaches are currently being more selective being that their teams are practically full following several weeks of auditions - just, for what it's worth.)

Related:

The 16 Best Auditions From The Voice, Just Because They're Friggin' Amazing

Mikaela's unique voice was praised by both Kelly and...
Published By: popsugar - Wednesday, 13 March