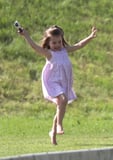 Princess Charlotte has pretty much been a star since she entered the world in May 2015 - this is a fact. And even though she's had a plethora of adorable moments during her three short years on earth, 2018 was when Charlotte really hit her stride. The sweet and sassy toddler - who apparently is fluent in Spanish, loves to dance, and prefers the color pink - is already proving to be the fun-loving, independent, and slightly rebellious middle child that birth-order experts would predict she'd be; from hamming it...
Published By: popsugar - Wednesday, 13 June
Older News
Ayda Field reveals she was worried about daughter's bridesmaid role at Princess Eugenie's wedding mirror (Yesterday) - Adorable six-year-old Theodora Rose Williams was on her best behaviour as Princess Eugenie's royal bridesmaid. ...
Kate Middleton Is an Aunt! See How the Royal Reacted to Her Sister's Exciting Baby News popsugar (2 days ago) - Pippa Middleton is a mom! The 35-year-old welcomed her first child, a baby boy, with husband James Matthews in London on Monday, making her sister Kate an aunt! Following the...
We Know They Can Adopt Dogs, but Can Royals Adopt Children? popsugar (2 days ago) - Royals adopting dogs? Totally acceptable (and totally adorable). But what about royals adopting children? Before the news of Meghan Markle's pregnancy made headlines, there were rumors that Meghan and Prince...
Why Ayda Field knew Meghan Markle was pregnant when she attended Royal wedding with husband Robbie Williams mirror (2 days ago) - The X Factor judge says she suspected the Duchess of Sussex was expecting her first baby with Prince Harry when she saw her at Princess Eugenie's wedding ...
Cool or Strict? What These 13 Royal Moms' Signs Say About Their Parenting Style popsugar (2 days ago) - Royal moms are just like regular moms (except the whole crowns, tiaras, and titles thing), and like every mom out there, they, too, have their own parenting styles. Yep, even...
Meghan Markle Confided in This Person About Her Pregnancy Before Telling the Royal Family popsugar (3 days ago) - Meghan Markle is going to be a mom! On Monday, Kensington Palace announced that the Duchess of Sussex and Prince Harry are expecting their first child. The couple reportedly shared...
Here's Exactly How Long Prince Harry and Meghan Markle Have Been Married popsugar (3 days ago) - With the announcement that the Duke and Duchess of Sussex are going to welcome their first baby next year, we're feeling nostalgic about Harry and Meghan's bona fide fairy tale...
This Is the Likeliest Place For the Duchess of Sussex to Give Birth popsugar (3 days ago) - It's official: there's about to be a new addition to the royal family! The Duke and Duchess of Sussex announced that they're expecting their first child next Spring, and everyone...