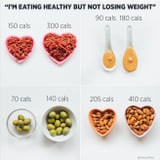 A post shared by Amanda Meixner (@meowmeix) on May 8, 2018 at 1:14pm PDT

If you're trying to lose weight, then you've probably stocked up on some healthy snacks: all-natural peanut butter, almonds, olives, and dried fruit. After all, it's better to snack on something wholesome and all-natural than something processed, right? Sure - but even whole foods can be calorie-dense, so eating them in excess could still hinder your weight-loss goals.

As Amanda Meixner (@meowmeix on Instagram) showed in her post, eating healthy, all-natural snacks while trying to lose weight all...
Published By: popsugar - Sunday, 13 May, 2018