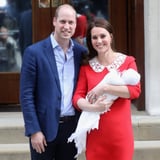 Between the guest list, the special date, and even the dessert, every detail of Prince Louis's royal christening has been planned to perfection. Similar to big brother Prince George's, Prince Louis's christening will take place in the Chapel Royal at St. James's Palace in London on Monday, July 9. While there will be some new family members in attendance for the special occasion, the royal family will also bring a slice of history to the post-service celebrations.

According to Kensington Palace, guests will enjoy tea and cake at Clarence House....
Published By: popsugar - Tuesday, 10 July
Older News
Royal Christmas Card: Duke And Duchess Share Photo And We Can't Even huffingtonpost (Yesterday) - Prince George looks completely in his element in Kate and William's latest family snap, just released. The picture, taken by Matt Porteous, shows the Duke and Duchess of Cambridge and their...
6 Times Meghan Markle, a Woman Who Does What She Wants, Pushed Royal Beauty Rules in 2018 popsugar (2 days ago) - Meghan Markle: Duchess of Sussex, mom-to-be, philanthropist, actress, dictionary definition of elegance and grace, master of messy buns - you get the point. She's a woman of many talents, she...
11 Surprising Things We Learned About the Royal Family This Year popsugar (2 days ago) - Just when you think you know everything there is to know about the British royals, there's a new documentary or interview that reveals another fun secret about life behind palace...