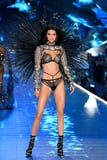 Victoria's Secret's cast of 2018 Angels took to Pier 94 in NYC on Thursday night for the brand's annual show. Steeped in the label's sexy legacy, the models stomped the catwalk in fantasy bras, wings, and sky-high heels, all with the over-the-top whimsy that's become standard with each Victoria's Secret production.

Among the highlights this season, you'll catch Gigi Hadid sporting a parachute, Elsa Hosk showing off the $1 million Swarovski Fantasy Bra, and the team of Angels showing off pieces from the brand's Mary Katrantzou collaboration.

Still, nothing can top...
Published By: popsugar - Thursday, 8 November