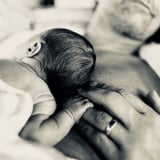 A post shared by John Stamos (@johnstamos) on Apr 15, 2018 at 10:30pm PDT

John Stamos announced on April 16 that him and his wife Caitlin Hugh had welcomed their first child together, and the name they decided to give their baby boy will tug at your heart strings. The Full House star revealed on Instagram his son's name is Billy, after his late father.

"From now on, the best part of me will always be my wife and my son," he wrote. "Welcome Billy Stamos (named after my father) #NotJustanUncleAnymore #Overjoyed."

A...
Published By: popsugar - Monday, 16 April, 2018