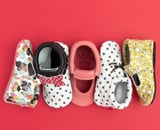 Freshly Picked has been steadily releasing moccasins in its Disney collection since last November, but somehow, the mocs keep getting cuter and cuter with each new wave of designs. Although we're still reeling over the Incredibles 2 and Winnie the Pooh collections from earlier this year, the new Minnie and Mickey styles are making us want to book a trip to Disney STAT.

Check out the new mocs in the Disney line (and don't miss the first round of Disney mocs).

Related:

Disney World's Toy Story Land Is Now Open to the Public:...
Published By: popsugar - Tuesday, 10 July, 2018