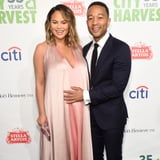 Chrissy Teigen and John Legend welcomed their second child, a baby boy, on May 16, and have already revealed what he looks like. In addition to sharing a sweet photo of his little face on Instagram, Chrissy revealed in her caption that his name is Miles Theodore Stephens. Thanks to his famous daddy, we now know the meaning behind his moniker.

"We named our first daughter Luna Simone Stephens; every name we give to our kids I think will have a little bit of musical history to it. So Miles is,...
Published By: popsugar - Sunday, 20 May, 2018
Older News
Piers Morgan lays into 'vile, hateful, foul-mouthed' Chrissy Teigen in Gillette debate express. (Today) - PIERS MORGAN, who presents ITV show Good Morning Britain, criticised Chrissy Teigen in a debate about the new Gillette campaign in his latest column for the Daily Mail....
Chrissy Teigen, Maria Shriver and More Celebs React to Gillette's Controversial 'The Best Men ... Celebrity. (Yesterday) - Causing a stir. Razor brand Gillette got people talking when it released its "The Best Men Can Be" campaign on Monday, January 14, to stop ......
Chrissy Teigen Perfectly Explains Why She Posts 'Real Mum S**t' Online huffingtonpost (Yesterday) - Chrissy Teigen is known for her honest takes on motherhood, and in a new interview she opened up about why she makes it a point to post about "real mum...
Chrissy Teigen Was a True Bond Girl and Wore $1 Million Worth of Diamonds to John's Party popsugar (3 days ago) - Chrissy Teigen is ready for her role as the next Bond girl, and judging by her glamorous fashion picks, she should get the part! Dripping in gold and diamonds, the...
These Photos of John Legend's Star-Studded 40th Birthday Party Left Us Shaken, Not Stirred popsugar (3 days ago) - The name's Legend - John Legend. In a bash worthy of a secret agent, the "Bring Me Love" singer celebrated his birthday with friends and family during a Casino Royale...