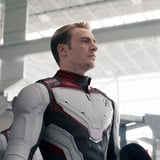 Warning: everything beyond this point is a spoiler! Proceed with caution.

As you go into your screening of Avengers: Endgame, you should prepare yourself for a few things. You'll be thinking stuff like, "God, I hope my bladder makes it through this" and "Am I actually prepared for the devastation about to happen on this movie screen tonight?" These are totally relatable feelings, especially since Endgame wraps up at just over three hours and will probably leave you emotionally wrecked.

Let's face it: we all expected that tragic deaths were coming,...
Published By: popsugar - Thursday, 25 April