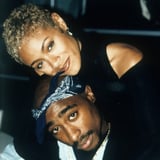 Image Source: Getty / Kevin Mazur Archive/WireImage

Jada Pinkett Smith celebrated her 20th wedding anniversary with Will Smith last year, but her were-they-weren't-they relationship with rapper Tupac Shakur is one that still intrigues fans, even two decades years after his tragic death.

Jada once recalled how the two first met at the Baltimore School for the Arts in Maryland, saying, "It was the first day and he came over to me and introduced himself." Jada continued, "And in high school, Pac was a little funny looking. Definitely from looking at him,...
Published By: popsugar - Thursday, 13 September, 2018