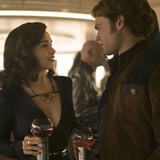 Image Source: Everett Collection

Warning: There are a bunch of Solo spoilers below, so stop reading now if you haven't seen it yet!

At its core, Solo: A Star Wars Story is a breezy, delightfully entertaining action-adventure film, but that doesn't mean it's shallow. The latest Star Wars stand-alone packs a lot into its 143-minute runtime, from Han and Chewbacca's meet-cute to an introduction to a kickass new droid, L3. It also dives into an organization called Crimson Dawn, which leads to a shocking - and ultimately kind of confusing - cameo...
Published By: popsugar - Friday, 25 May, 2018