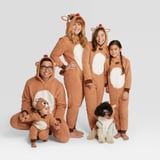 Every December, my mom buys the entire family matching pajamas, and while each of my brothers winces as they open up their new flannel set, there's no denying the huge smiles they have on their faces when the entire crew is dressed in them. Wearing matching PJs is undoubtedly silly, but it really turns up the heat on family festivities. Target just got in tons of new coordinating outfits for the season, and we're loving them. Here are 13 picks.

Related:

The Sock-Filled Disney Advent Calendar You Missed Out on Last Year...
Published By: popsugar - Wednesday, 10 October
Older News
Hailey Baldwin Just Cut Her Hair Even Shorter, Because That's What Biebers Do popsugar (Yesterday) - If you thought Justin was the only Bieber cutting his hair short this year, well, let us introduce you to his bob-donning wife. On Wednesday, Hailey Baldwin - erm, Hailey...
Psst, Santa - All We Want For Christmas Are These Sweet Treats From Target popsugar (3 days ago) - Yes, Target has great home decor, amazing beauty products, and some of the best candles, but have you even seen their festive holiday food? If you haven't, please make your...