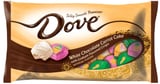 Easter candy is sold everywhere, but you might be convinced to get it all at Target once you see the store's exclusive options. The retailer is not only stocked with White Chocolate Marshmallow M&M's, but it's also carrying more unexpected twists on classic candy, like Dove White Chocolate Carrot Cake and supercute glittery bunnies. Whether you're slightly stressed about what to put in your kid's Easter basket or you just want to stash your cabinets with holiday-appropriate sweets, these limited-edition finds are the perfect fit. See what Target is offering...
Published By: popsugar - Monday, 25 March
Older News
What's Old Is New Again When Kate Middleton Adds a Brooch Onto This Coat popsugar (Today) - For Easter services at St George's Chapel with the queen, Kate Middleton pulled out an old favorite look for the holiday. In 2014, Kate wore this very same Alexander McQueen...
Animal Kingdom's Newest Dessert Was Inspired by the Popular "You Are Most Beautiful" Wall popsugar (Today) - You might think Disney's Animal Kingdom Park is just a place to see exotic animals like tigers and elephants, ride thrilling attractions like Flight of Passage, and feel like you've...
Holly Willoughby leads showbiz Easter celebrations in quirky bunny hat mirror (Today) - Celebrities including Carol Vorderman, Katie Price and Robbie Williams have gathered with their families to celebrate Easter Sunday ...
Sheet Music From Burned Paris Cathedral Part of Oakland Easter Mass Music (Yesterday) - At the Easter Sunday Mass at the Cathedral of Christ the Light, the Cathedral Choir will sing the "Victimae Paschali Laudes" using sheet music ......
Heck Yes! This Creamer Will Make Your Morning Coffee Taste Just Like S'mores popsugar (Yesterday) - *taps mic* *leans in*Guys, I'm not sure who exactly needs to hear this today, but I for one think it's very important for everyone listening to know that, thanks to...
All the Easter Eggs You Missed From The Twilight Zone, Legacies, Game of Thrones, and More tvguide (2 days ago) - Easter eggs aren't just meant for the Easter holiday anymore. Thanks to our ongoing obsessing with finding little things that connect to other things, the term "Easter egg" has grown...
Satisfy Your Insatiable Vegan Sweet Tooth With These 13 Decadent Cake Recipes popsugar (2 days ago) - From a Starbucks copycat iced lemony pound loaf to gingerbread chocolate cake, you'll want to get out your mixer and turn on the oven to bake these decadent, moist, and...
Lauren Harries dresses up like Playboy bunny in twerking Easter video mirror (2 days ago) - Lauren Harries, 41, recorded herself dancing in her garden as a special Easter treat for her 16,700 Instagram followers ...
7 celebrity chefs share 7 Easter and Passover cooking tips Celebrity (2 days ago) - Matt Abdoo: Make Easter bread with leftover eggs. Don't let dyed eggs go to waste! Braid them into sweet Easter bread for a festive treat. You can color the eggs...