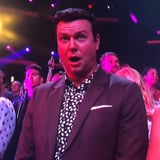 Cardi b really is the future of rap/hip hop and she just proved this by her performance #AMAs⁠ ⁠ pic.twitter.com/AuaQBa6ay1

- ????세훈.???? (@puzzletochoerry) October 10, 2018

To say Cardi B slayed her performance at the American Music Awards on Tuesday night would be an understatement. The rapper, who picked up a trophy earlier in the night, took the stage to perform a very colorful, upbeat, and all-around electric rendition of "I Like It" with assistance from Bad Bunny and J Balvin. While the people in the audience were naturally going crazy, there...
Published By: popsugar - Wednesday, 10 October, 2018