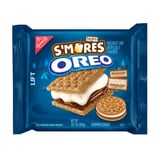 It's. Really. Happening. For the first time since 2016, S'mores Oreos are officially set to make their return to supermarket shelves in April. These fan-favorite treats made their debut in May 2015 but sadly disappeared from stores the following year. Thank goodness they're coming back - Spring just got a whole lot sweeter! The Oreos have already been spotted at some Walmart stores.

Related:

Arya Serious?! Game of Thrones Oreos Have Officially Arrived

In case you forgot (it has been three years, after all), S'mores Oreos feature a graham-flavored cookie with chocolate-...
Published By: popsugar - Tuesday, 16 April