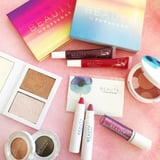 You've heard the news, you've seen the sneak peek, and now the moment is finally here. Today, we're revealing every single one of the products in our Beauty by POPSUGAR line.

To create our first-ever line of beauty products, we've worked with you, our loyal fans, and partnered with beauty veterans to create 80-plus products made with incredible, good-for-you ingredients. Our goal: to create a product line for you to become obsessed with!

Over the years, POPSUGAR has always wanted to help you live a happier, healthier life. We feel like...
Published By: popsugar - Sunday, 11 March, 2018