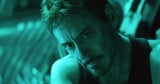 Yes, for the last time, there will be spoilers for Avengers: Endgame below.

Avengers: Endgame arrived in theaters at the end of April, but given Marvel's extreme approach to keeping spoilers from reaching the masses, the film's stars have only recently begun sharing behind-the-scenes photos and videos from their time on set.

From seeing just how different the big battle against Thanos looked in real life - essentially a small room covered in green screens - to selfies of the cast in full costumes, the rare glimpses behind Marvel's magic curtain...
Published By: popsugar - Thursday, 16 May