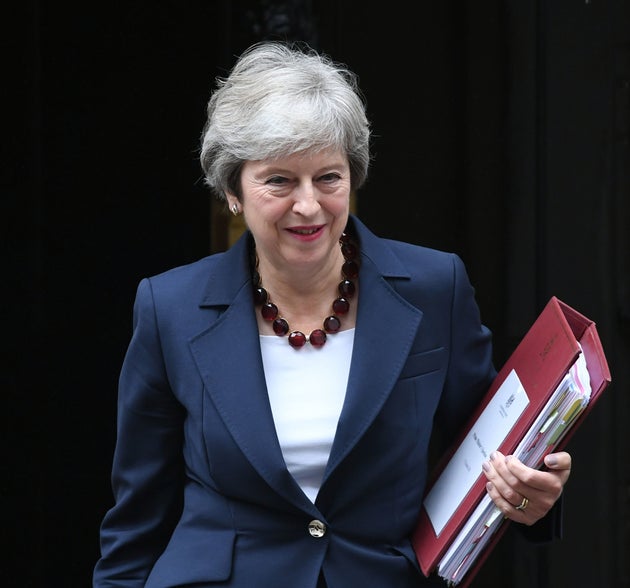 MPs will vote on Theresa May's Brexit deal on November 27, an email leaked to HuffPost UK suggests. Information from a draft communications plan - or 'grid' - used by the Department for Exiting the European Union (DexEU) sets out how ministers plan to bolster support for a deal the Prime Minister could strike within days. Downing Street has said the plan "doesn't represent the Government's thinking" and denied its details are accurate.The plan claims Brexit Secretary Dominic Raab will trumpet a "moment of decisive progress" once cabinet reviews the deal, after...
Published By: huffingtonpost - Tuesday, 6 November
Older News
Tory Rebels Claim They Are 'Not Far Off' Forcing A No Confidence Vote In Theresa May huffingtonpost (Today) - Tory Brexiteer rebels have claimed they are "not far off" reaching the number of MPs needed to trigger a no confidence vote in Theresa May's leadership.Steve Baker, the former Brexit...
Police Warn No-Deal Brexit Could Cause 'Widescale Disruption And Dangers For The Public' huffingtonpost (Today) - A Police Federation boss has warned of possible chaos if the UK leaves the EU without a deal in place – and says he doesn't think the force is ready...
Michael Gove Not Quitting, As Theresa May Faces No Confidence Vote huffingtonpost (Today) - Michael Gove has decided not to resign from Theresa May's government, as the prime minister fights for her political life.The environment secretary had been rumoured to be on the brink...
Theresa May Tells Tory Plotters She Won't Quit In Crunch Press Conference huffingtonpost (Yesterday) - MPs must unite behind Theresa May's Brexit deal or see the UK take "a path of deep and grave uncertainty", the Prime Minister has said. As the PM sought to face...
Even Theresa May Now Accepts There Is Another Option – To Stay In The European Union huffingtonpost (Yesterday) - We have reached crunch time - Theresa May has presented her Brexit deal to Parliament and the resounding consensus is that it's dead.More than two years since the Brexit vote...
'All Politicians Are A Waste Of Space': We Asked People WTF Is Happening With Brexit huffingtonpost (Yesterday) - The keen gaze of the political world was trained squarely on the House of Commons on Thursday, as an embattled Theresa May defended her draft Brexit agreement in front of...
As a Labour Member, I Feel Very Sorry for Theresa May huffingtonpost (Yesterday) - As embarrassed as I am to admit it, I feel sorry for Theresa May. Despite this, it is a feeling that I am sure resonates with many, at least the...
How Theresa May's Brexit Deal Can Get Through Parliament - We Did The Maths huffingtonpost (Yesterday) - Is Theresa May the ultimate survivor? And can the prime minister get her Brexit deal through Parliament bitter opposition from so many MPs? These are the questions on everyone's lips at...
Jacob Rees-Mogg Demands Theresa May Resign - As Tory MPs Savage Brexit Deal huffingtonpost (Yesterday) - Jacob Rees-Mogg has submitted a letter of no confidence in Theresa May's leadership, labelling her draft Brexit deal "worse than anticipated".The prime minister has seen a slew of resignations from...
Brexit Has Been An Exercise In Entitlement: A Leadership Contest Now Would Take Us To The Brink huffingtonpost (Yesterday) - I could very readily argue that Brexit has been an exercise in entitlement. I do this, no matter what my stance on Brexit, without necessarily stating whether entitlement or collaboration...