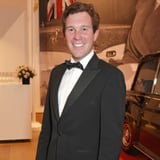 Princess Eugenie is following in Prince William and Prince Harry's footsteps by marrying a commoner! The royal tied the knot with her longtime love, Jack Brooksbank, on Oct. 12 at St. George's Chapel at Windsor Castle. Even though Jack isn't of royal blood, he does have a pretty interesting job and a surprising celebrity connection.

Related:

Here's Who Is in Princess Eugenie and Jack Brooksbank's Wedding Party

Jack works in hospitality as a wine merchant. His first job was as a waiter at Chelsea's Admiral Codrington pub and the Markham Inn, which is...
Published By: popsugar - Saturday, 13 October, 2018