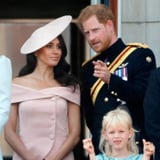 Like all things in life, there's a learning curve for royal etiquette, and luckily for Meghan Markle, she's got Prince Harry right by her side. Over the weekend, the newly titled Duchess of Sussex attended her first Trooping the Colour, which is the official military celebration for the queen's birthday, and she fit right in with the royal family. While the photos of Meghan and Harry were nothing short of gorgeous, the moment she asked him if she was supposed to curtsy stole our hearts (OK, fine, Savannah Phillips shushing...
Published By: popsugar - Tuesday, 12 June
Older News
There's 1 Important Rule That Keeps Most Royals From Adopting Children popsugar (Today) - Royals adopting dogs? Totally acceptable (and totally adorable). But what about royals adopting children? Before the news of Meghan Markle's pregnancy made headlines, there were rumors that Meghan and Prince...
Meghan And Harry Will Not Seek Official Royal Title For Their Child - Reports huffingtonpost (Today) - The Duke and Duchess of Sussex will not seek a royal title for their child, according to The Sunday Times.The royal couple are hoping to raise their first child, due...
Royal Tour: Meghan Advised To Rest Amid Busy Australasia Trip huffingtonpost (Today) - The pregnant Duchess of Sussex has cut back on parts of her schedule during the two-week royal tour around Australasia, Kensington Palace said.Meghan pulled out of meeting Invictus Games competitors...
Samantha Markle begs Meghan to heal rift with ailing dad 'before it's too late' in letter hand-delivered to palace mirror (Today) - Half-sister Samantha, 53, says she wants the family to put their differences aside for the sake of Meghan and Harry's unborn baby ...
Pack Your Bags For Aldovia, Because A Christmas Prince 2 Finally Has a Premiere Date popsugar (Yesterday) - Are you ready for more Amber and Richard? I sure hope so, because Netflix's sequel to A Christmas Prince, officially titled A Christmas Prince: The Royal Wedding, will be streaming...
Thomas Markle Reveals How He Learned Meghan Was Pregnant extratv (Yesterday) - As Prince Harry and Meghan Markle continue their royal visit to Australia, her father is speaking out about her pregnancy for the first time....
Meghan Markle Has a Ton of Navy Dresses, but This Looks Like 1 of Her Favorites popsugar (Yesterday) - If you were to take a peek inside Meghan Markle's royal tour wardrobe, first, your jaw would likely fall to the floor, and second, you'd probably see quite a bit...
Meghan Markle and Prince Harry 'hire US celebrity nanny to help raise baby - suggested by the ... Celebrity. (Yesterday) - Meghan Markle and Prince Harry have hired a celebrity nanny to help raise their first baby, according to reports. Connie Simpson, known as 'Nanny ......
45 Times Prince Harry Was Out-of-Control Cute With Kids popsugar (Yesterday) - The royal family loves spending time with children, but of them all, Prince Harry has become known for creating an instant rapport with the youngsters he meets. From babies to...
Prince Harry's 'anxiety' over Meghan Markle's pregnancy mirrors his beloved mother Diana, says body language expert mirror (Yesterday) - Our body language expert reveals the truth behind Prince Harry's very worried look before he took to the stage at the Invictus Games opening ceremony at Sydney Opera House...