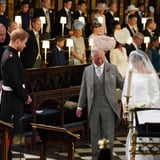 Prince Harry shared a behind-the-scenes detail about his wedding day with Meghan Markle, but this one has to do with Prince Charles. During an interview for BBC One's documentary Prince, Son and Heir: Charles at 70, Harry opens up about the sweet response he received from his dad when asked to walk Meghan down the aisle.

ICYMI, back in May, there was quite a bit of controversy surrounding who would fill that role at the royal wedding. Speculation circled over who would accompany Meghan when her father, Thomas Markle, announced...
Published By: popsugar - Thursday, 8 November
Older News
You Need to See Prince Harry's Reaction to This Little Girl's "Gingers Unite" Sign popsugar (Today) - One of the things we love most about Prince Harry's royal appearances - aside from seeing him with Meghan Markle, of course - is seeing the hilarious homemade signs well-wishers...
Wedding Bells Are Ringing! 51 Celebrity Couples Who Are Headed Down the Aisle Celebrity (Today) - Do you hear that? It's the sound of wedding bells ringing! Last year, we witnessed Prince Harry and Meghan Markle tying the knot in a lavish royal wedding, and this...
Meghan Markle Cuddled Dogs on Her Latest Outing, and OMG, It's Cute popsugar (Today) - It might be a cold, rainy day in London, but Meghan Markle was as radiant as ever as she stepped out to visit an animal welfare charity. Meghan made a...
Meghan's $35 H&M Dress Was the Perfect Addition to Her Maternity Wardrobe popsugar (Today) - Fresh from her bright and beautiful appearance with Prince Harry in Birkenhead earlier in the week, Meghan Markle stepped out solo on Wednesday as she made a visit to animal...
Meghan and Harry Shared a Sweet Moment With Blind Children Who Wanted to Touch Their Faces popsugar (Yesterday) - When Prince Harry and Meghan Markle make a public appearance, fans gather from far and wide to greet the famous royals. Such was the case on Jan. 14, when the...
Is Meghan Meghan Having a Boy or a Girl? The Duchess's Response Might Surprise You popsugar (Yesterday) - Meghan Markle and Prince Harry are going to be parents in the Spring! While the royal family has stayed pretty mum about the couple's first child, the Duchess of Sussex...
Meghan Markle Made A Big Announcement About Her Due Date huffingtonpost (Yesterday) - Meghan Markle revealed some exciting baby news during a visit to Birkenhead with Prince Harry on Monday. The Duchess of Sussex told people in the crowd that she's due to give...
Harry & Meghan Visit Birkenhead Women's Charity huffingtonpost (2 days ago) -
Meghan's Chic Color Clash Will Have You Rethinking Your Next Winter Outfit popsugar (2 days ago) - Prince Harry and Meghan Markle traveled north to Birkenhead, England, on Monday for a number of engagements in the Merseyside town. As usual, their royal visit included trips to a...
Meghan Markle Just Revealed Her Due Date, and It's So Soon! popsugar (2 days ago) - It's official: Prince George, Princess Charlotte, and Prince Louis will be getting a new cousin in 2019! On Oct. 15, Prince Harry and Meghan Markle formally announced that they are...