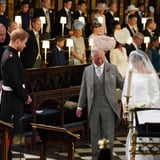 Prince Harry shared a behind-the-scenes detail about his wedding day with Meghan Markle, but this one has to do with Prince Charles. During an interview for BBC One's documentary Prince, Son and Heir: Charles at 70, Harry opens up about the sweet response he received from his dad when asked to walk Meghan down the aisle.

ICYMI, back in May, there was quite a bit of controversy surrounding who would fill that role at the royal wedding. Speculation circled over who would accompany Meghan when her father, Thomas Markle, announced...
Published By: popsugar - Thursday, 8 November
Older News
Meghan's Coat Might Be One of a Kind, but You Can Buy Her Bag Right Now popsugar (Today) - Meghan Markle was at Prince Harry's side last weekend as he was reportedly made godfather to Lena Tindall, daughter of his cousin Zara and her husband, Mike. The duchess, who...
From Rom-Coms to Dramas: All the Places You Can Still Watch Meghan Markle's Movies popsugar (Yesterday) - Now don't get me wrong, I am absolutely obsessed with Meghan Markle's new life as a royal and her fairy-tale romance with Prince Harry, but every now and then, I...
The Queen Allegedly Vetoed Meghan Markle & Prince Harry's Plan to Be "Entirely Independent" Celebrity. (Yesterday) - Prince Harry and Prince William have now split their households. According to royal correspondent Roya Nikkhah at The Sunday Times, Meghan ......
Prince Louis Is Looking Ready to Walk at 10 Months Old, and Godspeed, Kate Middleton popsugar (2 days ago) - Image Source: Getty / WPA PoolAt 9 months old, Prince Louis started crawling, and now at 10 months, Kate Middleton said her youngest child is well and truly on the...
Status Quo star snorted coke as Prince Charles sat nearby at Prince's Trust gig mirror (3 days ago) - Francis Rossi, the band's frontman, met the Prince of Wales after inhaling the class A drug from a toilet seat at the 1982 performance ...
Gemma Atkinson talks ring 'panic' as she makes Gorka Marquez engagement admission express. (3 days ago) - GEMMA ATKINSON admitted she pretended to be engaged to her boyfriend Gorka Marquez because she "panicked" meeting Prince Charles at the Prince's Trust Awards earlier this week....