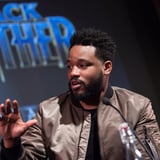 Ryan Coogler is heading back to Wakanda.

According to Variety, sources reveal that Coogler is on board to write and direct the Black Panther sequel. The filmmaker helmed the first Black Panther, which went on to become an international hit and break numerous box office records - including becoming the highest-grossing film by a black director. The film also had an enormous cultural impact on Marvel fans, especially people of color.

Chadwick Boseman - who plays the feline-suited superhero in the movie - is expected to return for the sequel, as well...
Published By: popsugar - Thursday, 11 October
Older News
Oscars 2019: All 15 Best Original Song Contenders, Ranked from Worst to Best indieWIRENews (Yesterday) - From "Black Panther" to "Suspiria," Lady Gaga to The Coup, this year's Oscar contenders for Best Original Song make for a great soundtrack....
'First Man' and 'Avengers: Infinity War' Lead Oscar Visual Effects Shortlist indieWIRENews (2 days ago) - Marvel was the big winner with three VFX bakeoff entries: "Ant-Man and the Wasp," "Infinity War," and "Black Panther."...
Music supervisors step into the spotlight with new Grammy eligibility in soundtrack category Music (2 days ago) - It's a banner year for film music at the Grammys. Works from "Black Panther" and "A Star Is Born" are in contention in some of the top categories....
Black Panther, The Favourite, and More Lead the 2019 Critics' Choice Awards Nominees popsugar (3 days ago) - This year's Critics' Choice Awards won't take place until the big show airs live on The CW on Sunday, Jan. 13., but in the meantime, the TV and movie nominations...