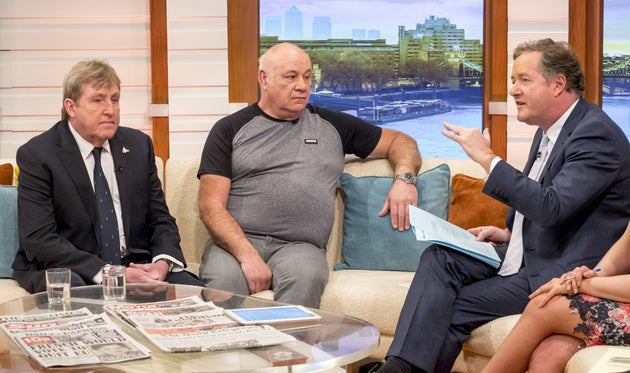 Piers Morgan has slammed Ofcom over their ruling he broke broadcasting guidelines during a 'Good Morning Britain' interview with a homeless SAS hero.The presenter was furious after discovering the media regulator had upheld complaints against the ITV breakfast show for not reading out a council's response to the item. Homeless ex-military man Bob Curry appeared on the show on 22 January, after a petition was launched to get Herefordshire County Council to provide him with social housing, following a battle with the local authority.At the end of the interview, Piers told...
Published By: huffingtonpost - Monday, 24 September
Older News
Brit Awards 2019: Jack Whitehall's Little Mix 'Scatter Cushion' Jokes Sparks Ofcom Complaints huffingtonpost (Today) - While Jack Whitehall's stint hosting the Brit Awards last night went down a storm with many viewers, some took issue with one of his jokes.After Little Mix's performance, Jack left...
Piers Morgan Bites Back At Jack Whitehall And Little Mix After Brit Awards Jibes huffingtonpost (Today) - Jack Whitehall was never going to get away with making a joke about Piers Morgan in front of millions of people at the Brits and get away with it. Sure enough,...
These Vegan (And Gluten-Free) 'Creme Eggs' Look Delicious – Time To Stock Up For Easter huffingtonpost (Today) - Easter is fast approaching and we're thinking about one thing: creme eggs. But what happens if you're vegan or lactose intolerant, and can't eat Cadbury's offerings?No fear, a vegan chocolatier...
Piers Morgan slams Little Mix for 'fat-shaming' him at BRITs: 'Shame on you!' mirror (Today) - The Good Morning Britain presenter, 53, also lashed out at host Jack Whitehall and branded him a 'chinless little weed' ...
Piers Morgan: Little Mix accused of 'fat shaming' GMB host as star hits out after BRITs express. (Yesterday) - PIERS MORGAN has slammed BRIT Award 2019 winners Little Mix after the girlband laughed when host Jack Whitehall joked about the Good Morning Britain presenter's weight on national television. The...
Brit Awards 2019: Little Mix Left Mortified As Jack Whitehall Brings Up Piers Morgan Feud And Jamaican Accent Video huffingtonpost (Yesterday) - Little Mix were unable to mask their embarrassment during an awkward exchange with Jack Whitehall during this year's Brit Awards, in which he brought up their recent beef with Piers...
Piers Morgan: Little Mix in 'awkward' moment with BRITs 2019 host over spat with GMB star express. (Yesterday) - PIERS MORGAN has taken to Twitter to blast BRIT Awards 2019 host Jack Whitehall and girlband Little Mix after they appeared in an "awkward" exchange during the ceremony tonight....
Watch George Galloway Go Full George Galloway In Jaw-Dropping Sky News Interview huffingtonpost (Yesterday) - George Galloway has described a Labour MP's decision to leave the party because of anti-Semitism as a "black op" fuelled by "Goebbellian propaganda" to "slander" Jeremy Corbyn.Appearing on Sky News...
Piers Morgan: 'What the f*** is wrong with people?' GMB presenter speaks out on death express. (2 days ago) - PIERS MORGAN, who presents Good Morning Britain alongside Susanna Reid, has hit out at those who defaced the US statue of George Mendonsa, the famous Kissing Sailor, who died aged...
Inside Piers Morgan's swanky LA holiday with drag queen bingo and golf with Vinny Jones mirror (2 days ago) - Telly host Piers Morgan has taken a break from Good Morning Britain to relax in the US ...