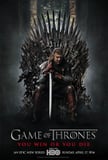 Warning: Major Game of Thrones spoilers ahead!

A Starbucks cup is one thing, and I can handle a stray water bottle, but this subtle detail might have given away the ending to Game of Thrones all the way back in the FIRST season, and it doesn't look like a mistake. After taking a closer look at it, Thrones fans on Twitter are convinced that this promo poster from season one gave away exactly who would take control of the Seven Kingdoms - just take a look at who's sitting next to...
Published By: popsugar - Thursday, 23 May
Older News
Natalie Dormer: Game of Thrones star dons exquisite hat for Ladies Day at Royal Ascot express. (Today) - NATALIE DORMER, star of Game of Thrones, arrived at Royal Ascot today in a summery ensemble complete with customary stylish hat for Ladies Day 2019....
Game of Thrones Almost Gave Fans a Direwolf-Dragon Battle in Season 8 tvguide (Yesterday) - Let's face it. We're probably going to spend the next few years picking apart all the ways Game of Thrones' final season went wrong, especially if we keep getting these...
My Heart! The Music in This Game of Thrones Scene Was a Hint at Jaime and Brienne's Future popsugar (Yesterday) - Almost exactly one month after the Game of Thrones series finale, the show's composer Ramin Djawadi confirmed that hardcore Brienne and Jaime shippers might have been closer than they thought...
Lena Headey Says Cersei Had a Miscarriage in a Scene Cut From Game of Thrones tvguide (Yesterday) - Now that Lena Headey has detached herself from Cersei's windowsill at the Red Keep, she's been coming through with some straight talk about Game of Thrones' final season -- and...
According to Lena Headey, This Deleted Game of Thrones Scene Would've Changed A LOT For Cersei popsugar (2 days ago) - Ever since the Game of Thrones series finale aired back in May, many fans of the show have felt there were a handful of storylines we would've liked to see...
'Game of Thrones': Miguel Sapochnik Questioned His Violent Imagery, But Not Daenerys' Dark Turn indieWIRENews (2 days ago) - "Thrones" master of battles breaks down his introspective approach to directing the destruction of King's Landing in "The Bells."...
The First Game of Thrones Prequel Has Started Filming tvguide (2 days ago) - We're now one step closer to more Game of Thrones as the first prequel series has begun filming, according to Entertainment Weekly. While Game of Thrones always used to have...
Sophie Turner: Game of Thrones star 'down' for unexpected new role after Sansa express. (3 days ago) - SOPHIE TURNER, who's role as Sansa Stark in Game of Thrones recently came to a close, has revealed she is "down" to take on a very unexpected new part....
Game of Thrones Stars Who Felt Just as Conflicted About Season 8 as You Did tvguide (3 days ago) - Thousands of Game of Thrones fans were not the only people who found some fault with the record-breaking show's final season. Members of the series' sprawling cast were not shy...