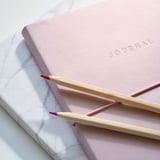 When my kindergarten teacher started using "conversation journals" with each of her students, I doubt she realized what a difference it would make in my life. As a 5-year-old just learning to write, I'd scribble down my thoughts and she'd reply. This created a valuable back-and-forth. If I didn't know how to express what I wanted to communicate in spoken words, I had another outlet.

There was an element of trust that went into what we wrote. If it was put in the journal, it was safe.

My mom quickly noticed...
Published By: popsugar - Saturday, 15 December, 2018