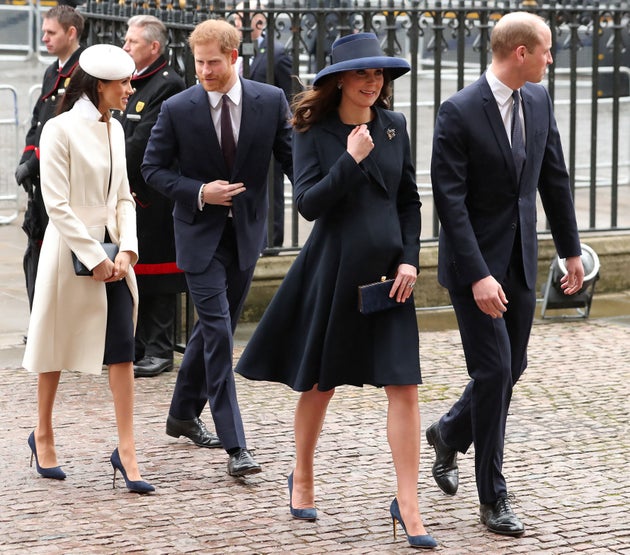 The Duchess of Cambridge and Meghan Markle looked chic in classic silhouettes as they arrived at a service to mark Commonwealth Day.As the Head of the Commonwealth, her Majesty The Queen attended the service at Westminster Abbey on Monday 12 March. She was accompanied by The Prince of Wales and The Duchess of Cornwall. Prince William and Prince Harry were seen arriving with Kate and Meghan.The Duchess wore a Locke  & Co hat with a beautifully tailored navy coat from Beulah London, £650, that accentuated her baby bump. Markle also looked...
Published By: huffingtonpost - Monday, 12 March, 2018
Older News
Meghan Markle Is Being Called "Difficult," and Black Women Can Read Between the Lines popsugar (Yesterday) - Meghan Markle's name hasn't left the news since her engagement to Prince Harry was announced last year, and now that the two are married and expecting, the rumor mill is...
Prince Harry & Meghan Markle's First Christmas Card Is Just Magical extratv (Yesterday) - It's Prince Harry and Meghan Markle's first Christmas as husband and wife, and we've got the photo from their first Christmas card!...
Kate Middleton Just Wore the Sweater-Shirt Combination We All Forgot About popsugar (Yesterday) - Kate Middleton and Prince William released their adorable new Christmas card, welcoming Prince Louis to the mix! The family posed at home near the trees of Anmer Hall for photographer...
6 Times Meghan Markle, a Woman Who Does What She Wants, Pushed Royal Beauty Rules in 2018 popsugar (2 days ago) - Meghan Markle: Duchess of Sussex, mom-to-be, philanthropist, actress, dictionary definition of elegance and grace, master of messy buns - you get the point. She's a woman of many talents, she...
Princess Eugenie Doesn't Abide by This 1 Royal Beauty Rule, and We Bet You've Never Noticed popsugar (3 days ago) - Princess Eugenie is certainly no stranger to the list of protocol that comes with being born into the British royal family, and beauty is no exception. Although there are no...
Meghan Markle Paid a Sweet Tribute to Prince Harry's Father With Her Stunning Jewelry popsugar (3 days ago) - Meghan Markle made a surprise appearance at the 2018 British Fashion Awards, and boy, did she dress to impress. The Duchess of Sussex presented her wedding dress designer, Givenchy's Clare...