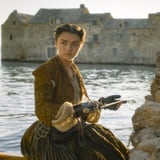 Maisie Williams has filmed her final scene for season eight of Game of Thrones, and it sounds like her character Arya Stark is going to have a lonely ending. In an interview with The Guardian Williams gave us a little inkling about Stark's fate when the series ends. Williams called the scene "beautiful," also adding, "I ended on the perfect scene. I was alone – shocker! Arya's always bloody alone."

Could this mean Arya will actually be completely alone in Westeros at the show's conclusion? Does an epic battle take place...
Published By: popsugar - Friday, 19 October, 2018
Older News
Here's a Thought: Put Podrick on the Iron Throne popsugar (Today) - Now that the final few episodes of Game of Thrones are upon us, there's an important question hanging in the air: who will end up sitting on the Iron Throne...
Game of Thrones: Exactly How Old Are Arya and Gendry? popsugar (Today) - As Game of Thrones hurtles toward its endgame, moments of joy and lightheartedness will probably become pretty scarce. But viewers were treated to at least one sweet, funny scene in...
Emilia Clarke: Game of Thrones star's blunder as she gets Kit Harington's NAME wrong express. (Today) - EMILIA CLARKE fell victim to an awkward blunder this afternoon when the Game of Thrones favourite accidentally got Jon Snow star Kit Harington's name wrong on Instagram....
Game of Thrones: The Night King Invades Winterfell in the Preview For Next Week's Episode popsugar (Yesterday) - All hell is about to break loose on Game of Thrones. No, seriously - we've seen the Battle of Hardhome, and the Battle of the Bastards, but season eight's Battle...
We Need to Talk About THAT Game of Thrones Sex Scene Right Freakin' Now popsugar (Yesterday) - Warning: MAJOR spoilers for Game of Thrones ahead!Just when we thought things were going to get tragic on Game of Thrones, they actually went in the opposite direction. Ever since...
Thank the Many-Faced God For Tormund, Game of Thrones's Necessary Comedic Relief popsugar (Yesterday) - Warning: Game of Thrones spoilers ahead. For a show heavily rooted in bloodshed, heartbreak, and drama, Game of Thrones does a damn good job balancing things out with some humor....
Game of Thrones Photo Recap: Arya Gets It in Despite Having Zero Game tvguide (Yesterday) - Game of Thrones' final season sure is off to a chatty start! Those who complained that the Season 8 premiere of Game of Thrones didn't have enough action probably had...
The 14 Sexiest Gendry Moments That Would Make Any Game of Thrones Fan Pull an Arya popsugar (Yesterday) - It's not every day that we're calling someone of Baratheon descent "sexy," but as the last known living person in Robert Baratheon's bloodline, Gendry definitely warrants that description. During episode...
Game of Thrones: Lyanna Mormont Is Even Younger Than You Thought popsugar (Yesterday) - Of all the tough, fearsome characters on Game of Thrones, one of the most intimidating is the one no one would expect: Lyanna Mormont, the small but mighty young leader...
Game of Thrones MVP: Brienne Becoming a Knight Was Everything We Wanted and More popsugar (Yesterday) - Welcome to Game of Thrones: MVP of the Week, a weekly feature in which we crown the character who stands out most during each episode of season eight. The MVP...