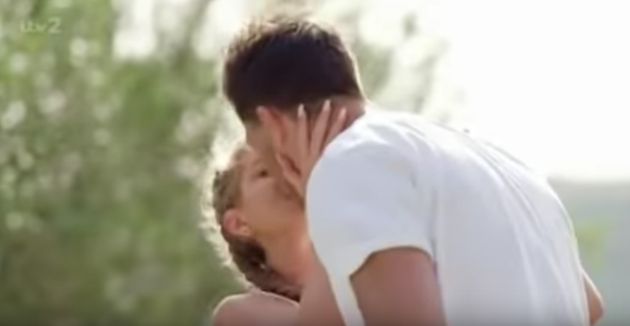 'Love Island' viewers have been complaining to Ofcom in their droves, over the drama centring around a kiss between Jack Fowler and Georgia Harrison.Earlier this week, producers brought in VAR (yes, that same device used during the World Cup) to settle a debate about whether it was Jack - currently coupled up with Laura Anderson - or Georgia who leaned in for a kiss after a recent date.While the VAR revealed that it was Georgia who initiated the kiss, newcomer Idris Virgo wasted no time in stirring the pot, telling...
Published By: huffingtonpost - 5 days ago
Older News
'Long Island Medium' Love Story? Larry Caputo's New GF Revealed! extratv (Yesterday) - "Long Island Medium" star Theresa Caputo's ex, Larry, recently revealed he's found love, but who's he dating?...
Ofcom Clears 'Love Island' Over Scene With Dani Dyer's Upset At Casa Amor Video huffingtonpost (Yesterday) - Ofcom has reached a decision after more than 2000 'Love Island' viewers complained over a scene involving fan faves Dani Dyer and Jack Fincham.Earlier this month, fans of the show...
Love Island's Samira admits airport reunion with Frankie WAS faked after she messed up original mirror (Yesterday) - The ex-Islander was shown jumping into her love's arms as he greeted her at arrivals, but she admits it wasn't what it seemed ...
Love Island sparks fresh 'fake' row after furious fans spot 'staged' Beach Club moment mirror (Yesterday) - Eagle-eyed viewers reckon they've spotted the ultimate proof that scenes are 'staged' ...
'Love Island': Meet The Four New Contestants To Make A Surprise Entrance In The Villa huffingtonpost (Yesterday) - As we near the end of this year's 'Love Island', you'd think producers would be keen for things to start winding down, but it seems they've still got a few...
Love Island 2018: Caroline Flack wows in skintight tiger dress after Andrew Brady split express. (Yesterday) - LOVE ISLAND 2018 host, Caroline Flack, looked sensational as she poured her curves into a skintight tiger-print dress for spin-off show Aftersun last night....
Love Island 2018: Stephanie Lam flashes almost EVERYTHING as new star's racy pics exposed express. (2 days ago) - LOVE ISLAND 2018 newcomer Stephanie Lam is sure to shake up the villa when she joins the ITV2 show in tomorrow night's episode, and now her raciest pics have been...
Caroline Flack: Andrew Brady 'takes special belonging' from Love Island host amid split express. (4 days ago) - CAROLINE FLACK, who is the host of Love Island, announced her split from fiance Andrew Brady earlier this week, and now a source has claimed she is annoyed after he...
Love Island 2018: Frankie Foster sends fans wild with heartfelt Samira post amid reunion express. (4 days ago) - LOVE ISLAND 2018 stars Frankie Foster and Samira Mighty reunited today following her shock exit from the show yesterday, and now her beau has penned a gushing message....
Love Island 2018: Star speaks out as Samira and Frankie reunite following shock exit express. (4 days ago) - LOVE ISLAND 2018 fans were shocked to see Samira Mighty leave the villa during last night's episode in order pursue her relationship with dumped contestant Frankie Foster. Now, a former...