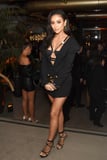 The Grammy Awards graced us with high fashion, ultraglam makeup, and looks that we have never before seen on any red carpet. But if you thought the looks during the show were hot, you will not believe your eyes when you see these supersexy afterparty ensembles. From edgy to alluring to totally tantalizing, these icons stripped down after the show.

Take a look at some of the stars who kept shining long after the show ended. Bringing sexy back is an understatement.

Related:

Diana Ross's Family Steps Out For Her Historic Grammys...
Published By: popsugar - Monday, 11 February