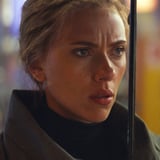 Image Source: Everett Collection

Warning: are you ready for some Avengers: Endgame spoilers? No? Then you better stop reading right now.

After watching Avengers: Endgame, you'll likely come away with a few thoughts. Like, "Wow, I can't believe we sat through all of that without peeing!" Or maybe, "Wow, I can't believe I'm still hyperventilating and crying, this is getting out of hand!" Either option is acceptable, for what it's worth, and if you are indeed an emotional wreck by the end of things, then know this - you're not alone....
Published By: popsugar - Thursday, 25 April