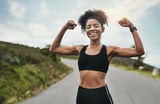 Weightlifting is one of the best ways to build muscle and lower your body fat percentage. A 2006 review in the British Journal of Sports Medicine reported that weightlifting will also increase your bone mass, improve your cardiovascular levels, and enhance your sense of well-being.

If your goal is to learn how to lift weights, but you aren't exactly sure where to get started, I've got you covered. This four-week strength program will provide you with a strength foundation and teach you the basics.

Because everyone has different strength levels, here are...
Published By: popsugar - Wednesday, 16 January