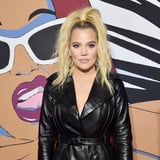 If you're a '90s baby, then you might have gravitated toward different iterations of french tips when you booked appointments at your nail salon back then. (Who else wore a bedazzled french manicure to prom?)

Khloé Kardashian's latest manicure is proof that the look is equally as alluring as it was when it was at the height of its popularity. She posted videos of her new, extralong french manicure on her Instagram Story. "Old school tips," she captioned her video, before tagging Modern Pamper Salon (where she, presumably, got her...
Published By: popsugar - Wednesday, 10 July
Older News
Let Kylie Jenner Show You a Different Way to Wear This Summer's Neon Nail Trend popsugar (Yesterday) - Kylie Jenner's latest nail art look is more proof that this Summer's biggest nail art trend, neon nails, is going strong. The beauty mogul and reality star, however, has put...
A Dermatologist Weighs In on How to Care For a Tattoo Over the Summer popsugar (Yesterday) - Caring for your tattoo becomes more important over the Summer. As it stays brighter outside for longer, your risk for sun damage (including discoloration, fading, and scarring) to your skin...
Believe It or Not, These Adorable Summer Nail Art Looks Take Less Than 10 Minutes to Do popsugar (2 days ago) - Thanks to Olive and June, Summer nail art doesn't necessarily mean a two hour appointment with your manicurist. The brand's nail stickers make fun, bright manicures possible in under ten...
Cardi B Just Wore Neon Nails in the Most Unprecedented Way popsugar (2 days ago) - Cardi B is no stranger to trendsetting nail looks, from neon shades to bedazzled styles, but she just unveiled a look that we didn't see coming. While performing alongside her...
Strawberry Nail Art Is the Most Delicious New Trend of the Summer popsugar (3 days ago) - The fruit that you throw into your morning smoothies and snack during the hottest days of Summer has transformed into a delicious new nail trend. Strawberry nail art - the...
Khloe Kardashian admits she could 'never hate' ex Tristan Thompson despite cheating mirror (3 days ago) - Khloe Kardashian has admitted she could 'never hate' her ex Tristan – despite his vile cheating...