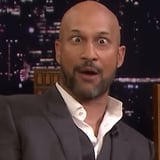 Keegan-Michael Key is primarily known for his comedic talents in his long-running sketch show Key and Peele (alongside frequent collaborator Jordan Peele), but now it seems he's building up a reputation as Disney's voice of choice. The 48-year-old actor was tapped to play characters in both of the studio's biggest Summer releases - Toy Story 4 and The Lion King - and he couldn't help but gush about the latter while recently sitting down with Jimmy Fallon.

Key is playing one of Scar's hyenas, Kamari, and told Fallon that he was...
Published By: popsugar - Tuesday, 18 June
Older News
So When Is Blue Ivy's Album Dropping? After Her "Brown Skin Girl" Feature, I'm Waiting popsugar (Yesterday) - Beyoncé has blessed the masses with her new album The Lion King: The Gift, and one song in particular has everyone in a frenzy. The four-minute tune "BROWN SKIN GIRL"...
How Beyonce 'upstaged' Meghan Markle at Lion King premiere and 'broke protocol' mirror (Yesterday) - Sources claim advisers to the Royal couple were not happy about break in protocol...
Quentin Tarantino and 'The Lion King': The Future of Movies Is in Their Hands indieWIRENews (Yesterday) - One is an original, the other very much a remake. The next two weeks will represent the most important moment in box office this year....
Beyonce Releases Double Music Video for 'Lion King' Songs Music (Yesterday) - Coinciding with the release of Disney's 2019 CGI adaptation of The Lion King, Beyoncé released a double music video for the songs "Spirit" and ......
Scar Isn't The Only Villain In The New Lion King mtv (Yesterday) - "The Lion King" remake boosts the profile of the three hyenas — Shenzi, Kamari, and Azizi, played by Florence Kasumba, Keegan-Michael Key, and Eric Andre — turning them from Scar's...
Beyoncé Named Her New Album Precisely What It Is: The Gift - and It Keeps on Giving popsugar (Yesterday) - Beyoncé's new album, The Lion King: The Gift, is officially here to bless us with good beats and new Instagram captions! The LP - which is inspired by Disney's reboot...
Disney's New 'The Lion King' Is A Weird Movie From Top To Bottom hitfix (Yesterday) - Disney's live-action remake of 'The Lion King' cost $260 million to make and somehow feels like corners were cut to make it....
Listen to Beyoncé's Lion King-Inspired Album, Featuring Kendrick Lamar, JAY-Z, and More popsugar (Yesterday) - Not only does Beyoncé lend her voice-acting skills to the upcoming live-action remake of Disney's The Lion King, but she also released an entire album with music inspired by the...
'The Lion King' roars into Indian box-office Gossips (2 days ago) - All Rights Reserved. The reproduction of the story/photograph in any form will be liable for legal action. For news, views and gossips, follow IANS at Twitter. A corporate retail face...
Beyonce 'Spirit' music video: 'The Lion King' anthem accompanied by African dancers and Bey's ... Music (2 days ago) - Beyonce released her single "Spirit" on July 10 in anticipation of Disney's live-action remake of "The Lion King," which opens on July 19 and features ......