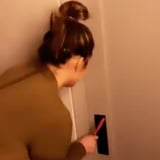 the boys locked us out. they won't let us watch #GoT because we talk too much @jenatkinhair @mrmikerosenthal pic.twitter.com/P7PZ05VGGj

- christine teigen (@chrissyteigen) April 15, 2019

Longtime Game of Thrones fans have been waiting very patiently (*cough* two years) for the show's final season, and season eight finally premiered on Sunday. This, of course, was a sacred TV-watching holiday for people around the world, including John Legend. During the premiere, Chrissy Teigen posted a couple videos on Twitter of herself breaking back into their media room with a pair of scissors...
Published By: popsugar - Wednesday, 17 April