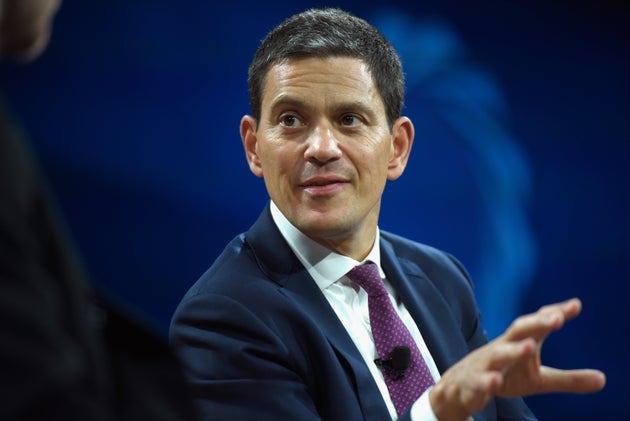 David Miliband has warned Jeremy Corbyn not to be the "midwife" to a hard Brexit.The former Labour foreign secretary will share a stage on Monday with former Lib Dem leader Nick Clegg and the Tory chair of the Commons Treasury committee Nicky Morgan to urge MPs to vote down Theresa May's Brexit deal with Brussels if it risks damaging the UK economy.Reports have suggested the prime minister is braced to drop her favoured plan for a customs union with Europe amid pressure from hardliners in her cabinet.Speaking to BBC Radio...
Published By: huffingtonpost - Monday, 14 May, 2018
Older News
France Triggers 'Hard Brexit' Contingency Plan huffingtonpost (Today) - France has triggered a contingency plan for a "hard Brexit," Prime Minister Edouard Philippe said on Thursday.After a cabinet meeting the wake of Theresa May's parliamentary defeat on her EU divorce...
Can Britain's Brexit Be Reversed? huffingtonpost (Today) - When the UK voted to quit the European Union in 2016, the shock was palpable at home and abroad.A stunned David Cameron was forced to resign as prime minister, and...
MPs To Vote On Theresa May's Brexit 'Plan B' On January 29 huffingtonpost (Today) - MPs will be asked to vote on Theresa May's Brexit Plan B on Tuesday January 29, the government has announced.Andrea Leadsom, the leader of the Commons, made the announcement to...
In The UK, David Cameron Is Still Getting Blamed For The Brexit Mess huffingtonpost (Today) - David Cameron saved the Conservative Party. His hug-a-husky brand of modern conservatism dragging the Tories from the mid-2000s doldrums to an unlikely election win in 2015. But his political obituary...
The Waugh Zone Thursday January 17, 2019 huffingtonpost (Today) - 1. BREXUAL HEALINGThe 'lectern moment' really is wearing thin as a useful dramatic device for Theresa May. She's stood on the steps of No.10 so many times now that she's...
Theresa May Made A Late Night Downing Street Statement On Brexit And It's Left People Fuming huffingtonpost (Yesterday) - On Wednesday, Theresa May caused bafflement after she gave a late-night statement outside Downing Street.At the end of another historic day in British politics, the PM ordered a lectern be...
Exclusive: £100,000 Surge In Donations To People's Vote Campaign After May's Brexit Deal Crushed huffingtonpost (Yesterday) - Momentum is building for a so-called "people's vote" after a £100,000 surge donations after Theresa May's Brexit deal was crushed in parliament. A total of £100,308 was handed to the official...
There's Something Oddly Familiar About Theresa May's Confidence Vote Win huffingtonpost (Yesterday) - Theresa May secured a margin of victory in Wednesday evening's Commons confidence poll of 19 votes – providing a strange coincidence when broken down in percentage terms.Those blessed with quick...
Theresa May Offers Brexit Talks With Jeremy Corbyn After Surviving No Confidence Vote huffingtonpost (Yesterday) - Theresa May has made a surprise offer of Brexit talks with Jeremy Corbyn after surviving his attempt to topple her government.The prime minister invited the leaders of the main opposition...
Customs Union Concession Could Break Brexit Deadlock, Justice Secretary Hints huffingtonpost (Yesterday) - Theresa May appeared to be edging towards a softer Brexit after a cabinet minister and Labour both signalled that an EU customs union could break the parliamentary gridlock.As the prime...