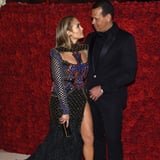 A post shared by Alex Rodriguez (@arod) on Aug 6, 2018 at 9:21pm PDT

Over a year after they began dating, Jennifer Lopez and Alex Rodriguez are still smitten with each other. The sexy couple proved it when Alex posted an Instagram video on Aug. 6 during a romantic date night in Italy. In it, Jennifer's serenading him with Journey's 1981 hit, "Don't Stop Believin'."

"What did you guys think of my performance?! . #dontstopbelieving," he captioned the video. The two look dashing with Jennifer in a sexy outfit and Alex...
Published By: popsugar - Tuesday, 7 August, 2018